We love this washing machine - very efficient and not too noisy.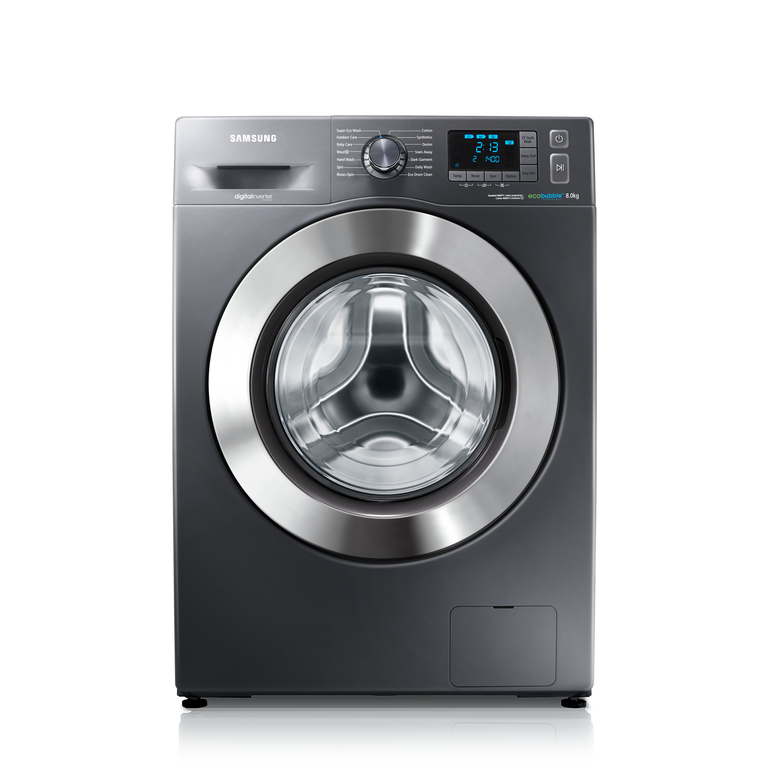 FEATURES
Save energy thanks to ecobubble™ technology
Bring a great look into your home with elegant design
Smart Check to resolve issues using a smartphone
Get rid of troublesome stains with Stain Away
How ecobubble™ works?
Breakthrough Samsung ecobubble™ technology froths detergent with air and water before the cycle begins, generating cleansing bubbles that penetrate fabrics faster than concentrated detergent. Wash clothes as effectively in cool water as you would in warm water which saves energy.​
Durable and less noise
The Digital Inverter Motor features an innovative brushless design and uses magnets to drive the drum's rotation. With the new motor, there's less friction, which means there's less noise and vibration. The reduced friction also cuts down on wear and tear of the machine's working parts, so, its durability is guaranteed with a 10-year warranty.​
Let Smart Check diagnose and troubleshoot problems for you
Imagine not having to call a repairperson when there's a problem because your washing machine notified you first with the solution. The new Samsung washing machine comes equipped with the innovative Smart Check. Smart Check detects and diagnoses errors at an early stage and provides easy troubleshooting solutions through the use of a smartphone with LED scanning. You don't even have to consult your user manual — you can correct the issue before it becomes a real headache.​
Remove stains - and extra steps
There are many ways to dirty your clothes. And one unique way to clean them. Stain Away uses Eco Bubble™ technology to deeply, gently and effectively clean clothes. Remove the most common stains—such as wine, tomato, blood, chocolate and grass—as well as less common ones.​

Eco Drum Clean

Wash the drum as easily as you clean your clothes by turning the dial to Eco Drum Clean. The eco-friendly cleaning cycle removes detergent residue and dirt buildup—without harsh chemicals. Not sure when to clean the tub? An alarm goes off after every 40 loads to remind you.





Last Memory

If you're washing load after load without changing the settings, you don't need to reprogram the cycle every time. Last Memory stores the last setting used—even if the washing machine has been turned off. Just press start and wash another load. The time you save will add up fast.








Diamond Drum

The streamlined shape of the Diamond Drum provides a powerful yet gentle washing performance. The diamond embossed drum gently moves clothes along the uniquely designed drum, while smaller water holes prevent fabrics from snagging and being damaged. Get fabric care with deep-clean results.





Quick Time Wash

Even when you're super busy, you can still make time for laundry with Quick Time Wash. Simply press the 15' Quick Wash button and clean a load in 15 minutes. Change the timer setting (options include: 15, 20, 30, 40, 50 and 60 minutes) based on load size - and your schedule.









[*=center]

5 Year Warranty
<iframe style="width:120px;height:240px;" marginwidth="0" marginheight="0" scrolling="no" frameborder="0" src="//ws-eu.amazon-adsystem.com/widgets/q?ServiceVersion=20070822&OneJS=1&Operation=GetAdHtml&MarketPlace=GB&source=ac&ref=qf_sp_asin_til&ad_type=product_link&tracking_id=neighboursi07-21&marketplace=amazon&region=GB&placement=B00GXN0Q0W&asins=B00GXN0Q0W&linkId=FE2UQ4ZO3LGKY34H&show_border=true&link_opens_in_new_window=true">&amp;lt;br /&amp;gt;</iframe>